Here is a little tour of my trip to Yakushima and my recommendations for people traveling there.
This is Sakurajima, not Yakushima, but it's a cool picture:
Note that there are large images below that break the tables so please enlarge your browser window. Sorry for being a horrible blogger.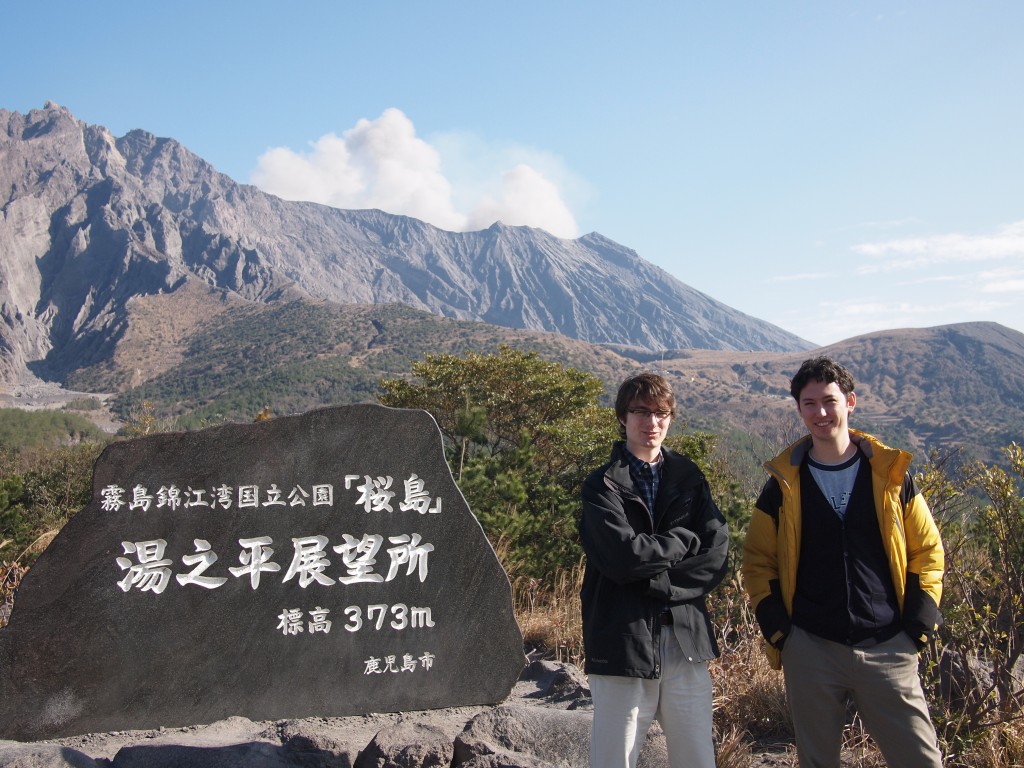 B. and I went to Yakushima with an eye towards seeing a lot without spending a lot. Let's see how successful we were.
On the first day we went to Kagoshima, enjoyed a meal, and visited Sakurajima. You can buy a round trip ferry ticket and 2 hour bus tour for a cool 760 yen. A great deal considering the fun we had.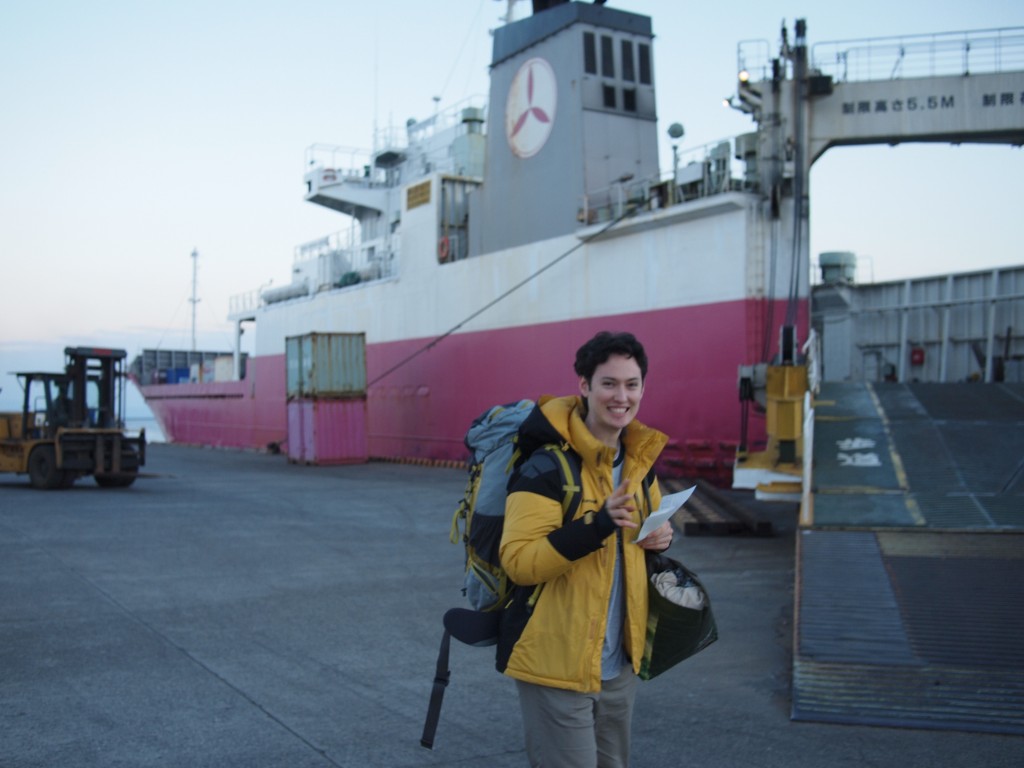 We decided to take the Hibiscus "ferry" which leaves Kagoshima at 6pm and arrives in Yakushima at 7am the next morning. That way, the boat trip and accomodations were together for cheap. Reservations were not accepted– they told us to just show up.
There were a few reasons this did not go as expected.
1. Hibiscus is not located in downtown Kagoshima. It's about a 1 hour walk from the nearest train station and the route is not direct. Be prepared.
2. Hibiscus is not a "ferry", it's the Yakushima cargo boat, which has been repurposed with a civilian cabin which you cannot leave. Surprise!
3. I saw that Hibiscus had few accommodations so I asked B. to bring a sleeping bag. Actually, blankets were provided. See below.
4. What was not provided was food and showers. We were not allowed to disembark at Tanegashima. We arrived on Yakushima sweaty, smelly and hungry.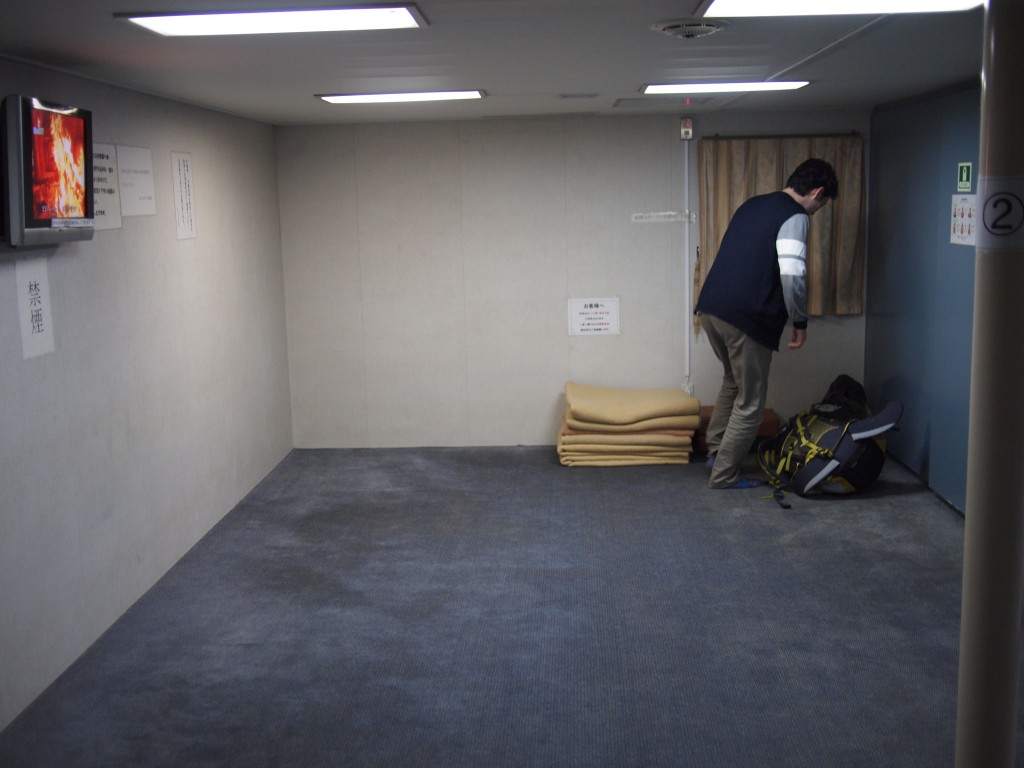 Our room for the night. Very quiet. Actually kind of hot in the cold weather. Sleeping bags were unnecessary.
We arrived at Yakushima on schedule and checked into the youth hostel. The guy was friendly, recognized where we had come from, and let us shower immediately.
There were two breakfast options that opened at 8am: Yakushima Ichiba and Furusato Ichiba. Be warned that YAKUSHIMA ICHIBA IS A RIPOFF. They put their building next to Furusato Ichiba but their food is mediocre. Furusato Ichiba has the GOOD breakfast, with free coffee and bacon.
After dilly-dallying some we set off for Shiratani Unsuikyo at 10am, which actually gave us plenty of time. It was a powerfully rainy day and our waterproof coats were soaked through. On stormy days like this you will not get much of a view from the summit, but hiking most trails should be fine. Proof: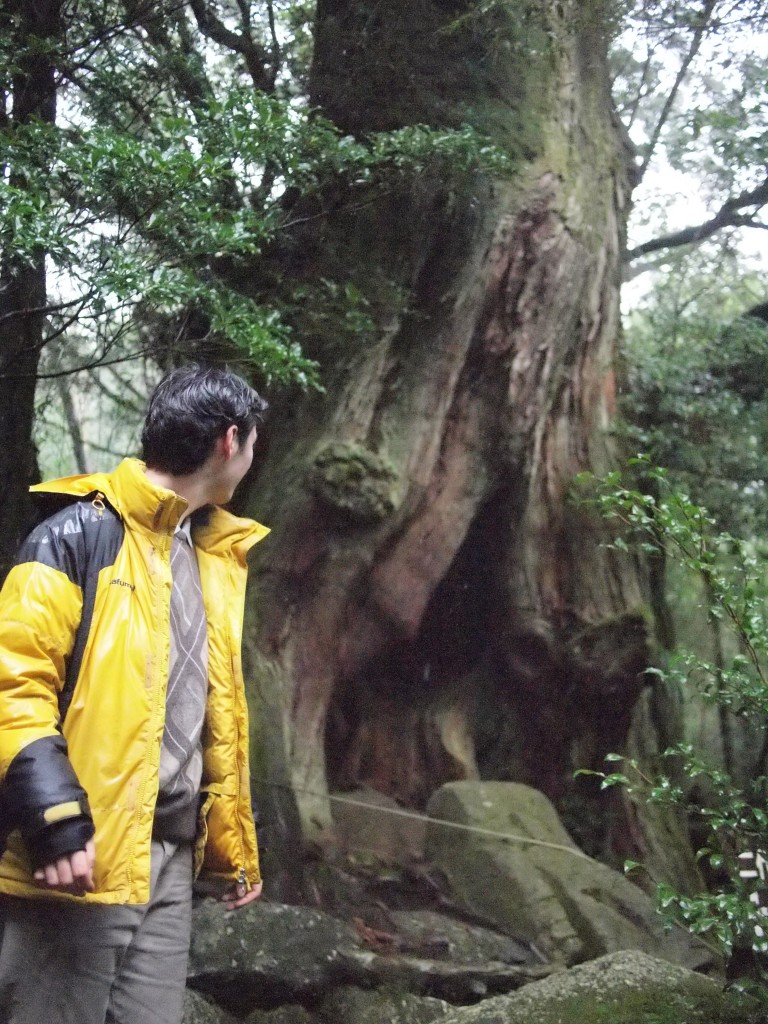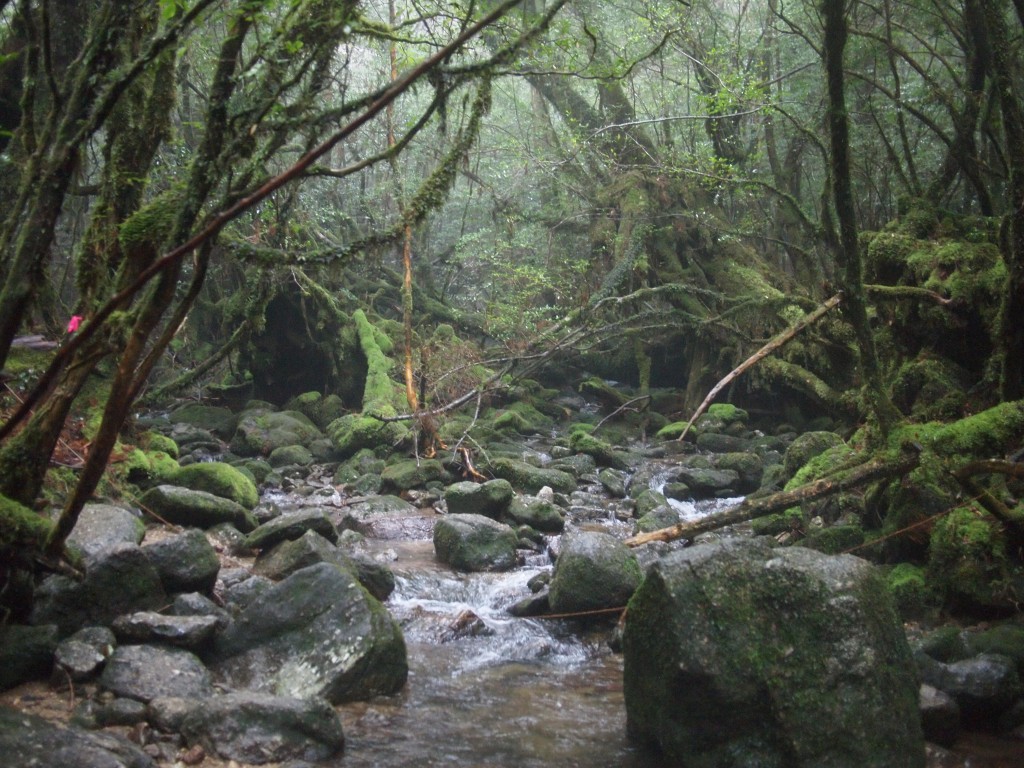 The guide at the entrance told us that the rain would make some areas of the trail impassable. This turned out to be false. We turned back at a crucial point before the trail turned into the Torokko trail where we had planned to turn left and take a bus back. I don't think this combo trail would have been too difficult to hike in a single day but I did not see it for myself. The actual failure in our plan… well, you'll learn later.
The next day we planned to return to Kagoshima by hydrofoil (I don't think there are many masochists willing to ride the Hibiscus from 8am to 4pm), but it was blustery and the waves dangerously high. Our morning boat was canceled. We took a bus to the neighboring city of Anbo (820 yen!) to hop on the afternoon boat. Then we learned all boats and planes were canceled, and the wind would continue all day. We were stuck on Yakushima.
At this point it became good to know two things:
1. The last useful bus into the mountains is at 1pm, and only runs once.
2. The bus times posted on the bus stops and on some of the schedules you are given are wrong. You will miss the bus. The English bus schedule supplied by the youth hostel, though, was completely accurate (give that guy my thanks).
We managed to drop our luggage at a local minshuku in less than 15 minutes. Nobody in this town caters to foreigners so be prepared to use Japanese. We rushed to the bus stop and by following the youth hostel's schedule we were able to catch the last bus to Arakawa, the other major trail of Yakushima. Oops, I meant he took us to the fork leading to Arakawa, 20km inland. There are no buses to the trail entrance from March to November.
It's 3 kilometers from the fork to the entrance so we ran downhill in order to get where we wanted to go. On the way we caught a glimpse through a barbed-wire fence of this dam, which most people never see because it's not visible from the center of the road. The road from the fork to the trail entrance is easy walking but would take about an hour at a leisurely pace. We did it in 30 minutes.
The Torokko road is highly uneven railroad tracks and requires good hiking boots, which I did not have. It leads to the abandoned logging village of Kosugidani, deep in the mountains. If you continue for a few hours beyond that it eventually becomes a difficult uphill trek to the Jomonsugi, which I heard was overrated. So, we explored the remains of Kosugidani.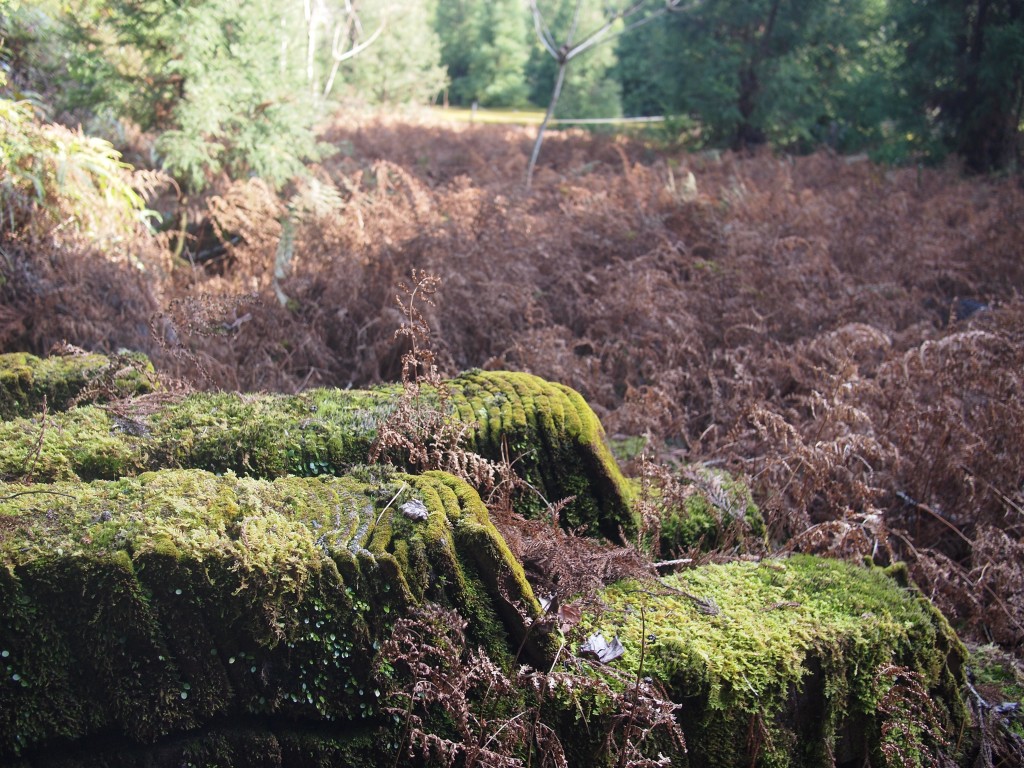 You might think a one-industry village like Kosugidani, 2 hours by rocky diesel train from the coast, would be an impoverished blue-collar "company town", but it turns out that logging ancient, enormous, old growth yakusugi trees brought really good money, and still does. Kosugidani had the first television in Yakushima, and later the first movie theater. About 500 children passed through its elementary and middle schools. The town was shut down as soon as the trees became protected as environmental heritage.
If you want to know more about Kosugidani, you can go to a riverside bar called "Jiiji-ke" in Anbou. It's owned by the son of someone who went to school there and the bar has some cool photos and relics from the village.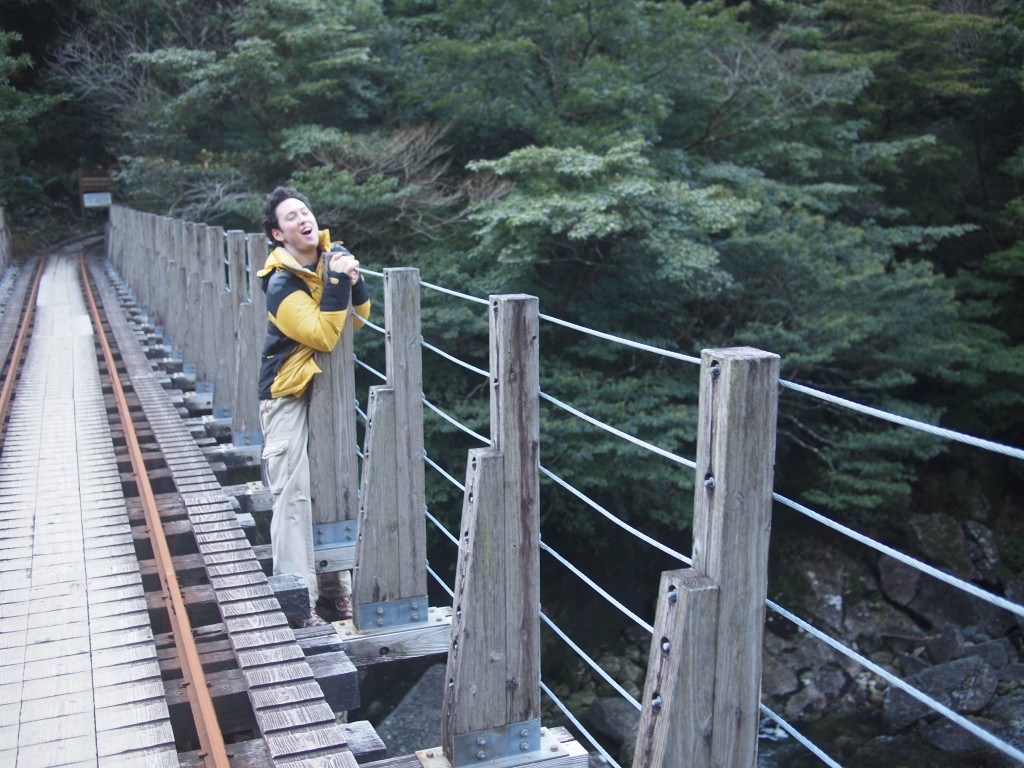 Please be aware that the Torokko track has many "bridges" where it is just a line of track between you and a 30-foot cliff. I would not want to walk on this track again. Pictured is B. on one of the few bridges that actually had a sort of rail.
There was one last challenge when we got back to the entrance. The entrance was unmanned. Only a single taxi was waiting for some passengers, who soon filled it and left. We waited for a bus, examined the bus stop schedule, and realized the fine print: no buses between November and March. There are no phones at the trail entrance, and it's probably a 5 or 6 hour walk from the entrance to town.
Luckily, we were rescued by some other hikers who emerged that moment and took us to a bus that happened to be passing by the fork.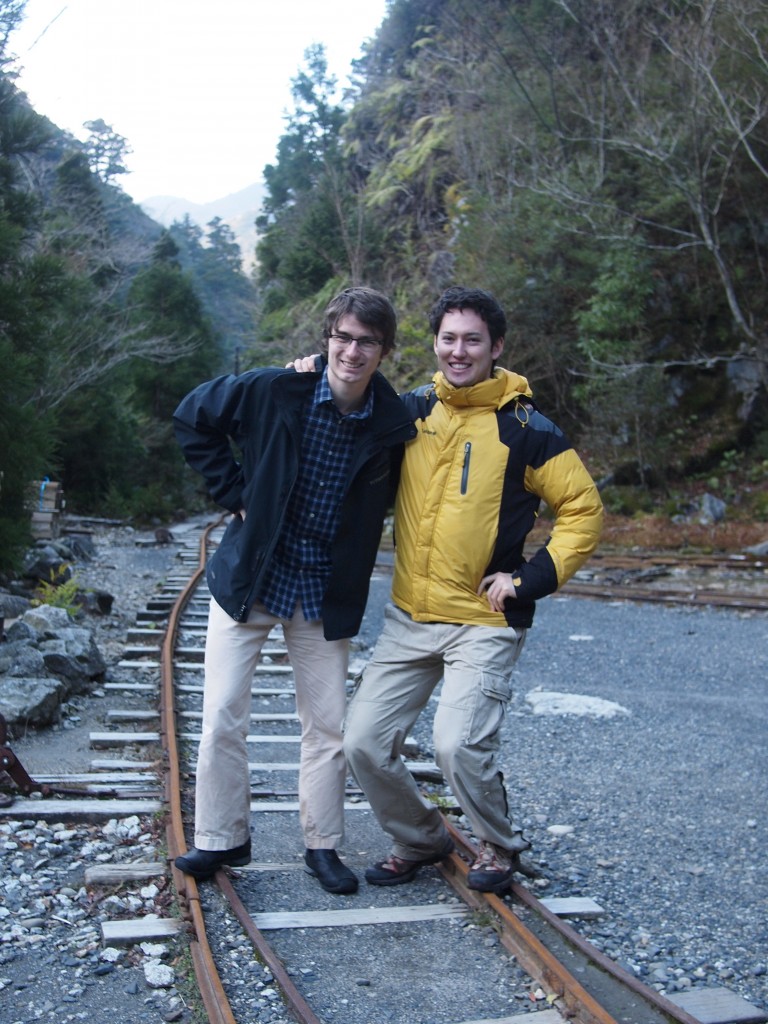 We left one day late but with a lot of memories and adventures to show for it. Our budget went out the window in the end, because you have to expect the unexpected, but our trip turned out to be a great success. Visit Yakushima and get yourself into some danger.
Posted: January 15th, 2013 | Travel 1 Comment »
---