I cannot claim to have made the first translation of the Hitsuki Shinji. It was made in March 1949 by unknown of Okamoto's followers. Unfortunately I don't have the whole thing. The top half of it was printed in 『岡本天明伝』 in 2012 and I would have to go to the National Diet Library to see the rest. I don't have time to do that so instead I will transcribe what is visible in the photograph, typos and all.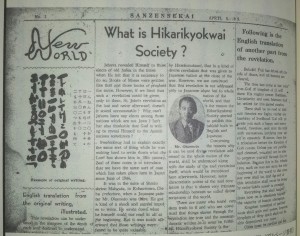 SANZENSEKAI — APRTL 8, 99

What is Hikarikyokwai Society?

Jehova revealed Himself to those elects of old Judea in the times when He felt that it is necessary to do so. Books of Moses were written like that and those books of prophets the same. However, if we limit that such a revelation could be given only to them, St. John's revelation as the last and never afterward, doesn't it sound unreasonable? Why can't Jehova have any elects among those nations which are not Jews? Isn't hat also thinkable that God is willing to reveal Himself to the Asiatic nations sometimes?

Swedenbrog had to explain exactly the same sort of thing while he was woking hard to write down what the Lord has shown him in 18th century. Zeal of these notes is to introduce that we have the same sort of case which has taken place here in Japan since June of 1944.

It was in the suite of Shinto shrine Mahgata, in Kohzu-mura, Chiba prefecture, when a Japanese painter Mr. Okamoto was there. He got a kind of shock and painful impulses to write. He wrote down what he himself could not read at all at the beginning. But it was much afterward that those writings were found to be quite valuable.

[... later half of document out of photo ... ] by Hitsukunokami, that is a kind of divine revelation that was given to Japanese nation at the close of the war. However, we are convinced that this revelation is not addressed only to Japanese alone but to whole nation of the world, and that's the reason the Hikarikyokwai Society started to publish this tabloid both in English and Japanese.

Concerning the reasons why it can be said divine revelation addressed to the whole nation of the world, shall be understood with the study of the said revelation itself, which would be introduced here afterwards. However, some characteristic points of the said revelation is that it shows very intimate relationship between so called divine scriptures of the world.

There are many who found very deep truth in it and who are convinced that things shown through the revelation are true and the commandments written in it must be fulfilled. Hikarikyokwai Society is the …e… the … of such people… [... missing...]

Following is the English translation of another part from the revelation. [This is from Book 1, Chapter 1. --AHM]

Behold! Fuji has driven off clouds of chaos, and all heavens are cleared.

The time has come at last when true God of kingdom of will show His mighty power. Buddhism, Christianity, and even Islamism shall be united for this sacred mission.

There shall be no need of difficult theories nor logics, neither any hardship of livelihood. God will provide you such a happy and merry world, therefore, seek after the truth with earnestness, purifying your spirit in cessantly. Hoewver, there lies a tribulation before the Kingdom of God comes. Unless you are purified and cleansed, you shall not be able to preserve yourself through this tribulation. Becauss this is the tribulation, such as was not since the very beginning of the world to this time, nor shall ever be. And the end of this tribulation shall never be brought unles God's power is revealed.

Everything that shall happen from now on is absolutely beyond the capacity of human conception.

Kingdom consisted of purified souls shall gain real power, however, kingdom of dirty spirit shall not be able domminant any more.

Cities must be purified and the [... missing ... presumably "land must be purified, and the people must be purified".]

Example of original writing. 一んねんTけ二〇かの三三一四もの一二四キ・T一八〇二もか〇二もか三〇つれ十も四で

English translation from the original writing, illustrated. "This revelation can be understood in the measure of the depth of each soul destined to understand. The … has … the …"
By the way, here is my personal bibliography of the Hitsuki Shinji for further research.
Manuscripts 1944-1961: The manuscripts of the final 8 chapters are missing.
宗教問題研究所静岡支部 「新興宗教ひかり教会」『宗教公論』 21(10), 1951
『㋹神示』ひかり教会 1951/2
『ひつく神示 黄金の巻 白銀の巻 鉄の巻』 ひかり教会 1951/2
岡本天明 『霊界交流と審神者秘伝』 1954 (reprinted 1984)
1963: Okamoto dies
『日月地聖典』 1967
『㋹月神示』天地の会 1972
岡本天明 『古事記数霊解序説―カズタマとはどんなものか』思兼書房 1972
笠井鎮夫 『日本神異見聞傳』 山雅房 1974
岡本三典編 『岡本天明筆 一二三 全巻』 self-published 1976-9 in 4 volumes (至恩郷版)
新日本研究所 『原典日月神示』 self-published 1978
泉田瑞顕 『日月神示 日本大預言』 静雅堂 1986/7 (second edition? 2009)
岡本三典編 『太神の布告―神も人も禊ぞ』 コスモ・テン・パブリケーション 1989
岡本三典編 『ひふみ神示』 コスモ・テン・パプリケーション 1991
泉田瑞顕 『日月神示 日本大預言 その2』 静雅堂 1991
中矢伸一 『日月神示―宇宙意志より人類へ最終の大預言』 トクマブックス 1991
橋爪一衛 『天地の声』 スペースプレゼンツ 1992
中矢伸一 『日月神示 神一厘のシナリオ―世界は神示に示されたように動く』 トクマブックス 1992
中矢伸一 『正釈 日月神示―宇宙の直流 火水土の異変=正なる神の声に耳かたむけよ』 超知ライブラリー 1995
中矢伸一 (various) 1995-2013
橋爪一衛 『㋹一二三 因縁の身魂の書』 一二三の宮 1995
日月神示刊行会編 『日月神示』 self-published 1996
岡本三典 『日月神示はなぜ岡本天明に降りたか』 徳間書店 1996
橋爪一衛 『肚で行く ㋹一二三』 東明社 1996
橋爪一衛 『マコトノミチ―欲望の救済』たま出版 1997
岡田光興 『フォトンベルトと日月神示』 徳間書店 2004
泉田瑞顕 『日月神示 日本大預言』 静雅堂
岡田光興 『2012年と日月神示(人類はやがて㋹生命体へ多次元神化する)』 徳間書店
岡本天明著、中矢伸一監修 『完訳 日月神示』 ヒカルランド 2011
宇咲愛 『アシュタール×ひふみ神示 立ち上がれ!地球の女神たちよ! 』 ヒカルランド 2012
黒川柚月 『岡本天明伝』ヒカルランド 2012
内記正時 (various) ヒカルランド 2012-2013
白山大地 『宇宙大出産で宇宙ごと生まれ変わる! 元つ神の「光ひとつ上ぐる」仕組み 火水伝文+日月神示+竹内文書が伝える』ヒカルランド 2013
By the author of a new 1991 revelation which apparently corresponds the Hitsuki Shinji to Takenouchi Documents.
Posted: July 24th, 2013 | Kokoro, Secular-Religious | 3 Comments »
---