The Tree in the Middle of the World (1989) is a Japanese children's book by Ghibli animator Makiko Futaki. According to the Afterword, Ms. Futaki got the idea for the book while visiting Yakushima to draw great, ancient trees for My Neighbor Totoro, and the idea got stuck in her head of a tree so large it could have animals and people living in it. Another afterword is by Hayao Miyazaki. Here are the first six pages of the book.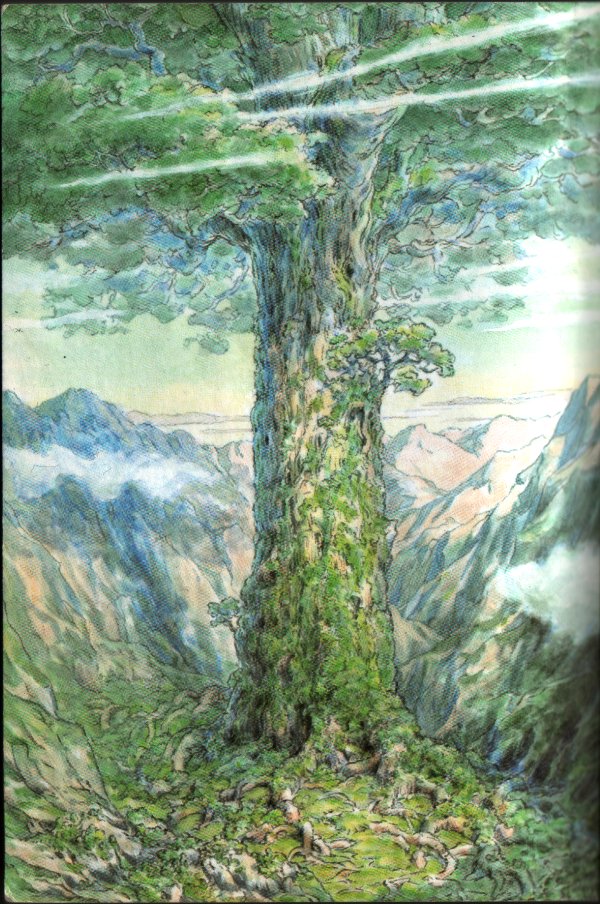 In the middle of the world stands one great tree. Long ago there were a few people who knew about it, but these days, it seems that everyone has forgotten.
That tree sprung up in a valley encircled by scraggy mountains, and before long overtook the mountains, and grew so, so tall that you couldn't see the top. The tall trunk split into far-off branches, and bushy leaves billowed out and melted into the clouds.
Nobody knew how many hundreds or thousands of years ago the first leaf sprouted on this tree. Over the centuries its surface was covered with countless layers of moss, mistletoe, and sprouts, so much that it was impossible to see the original trunk.
In a little cottage at the base of this tree lived a girl named Cici and her grandmother. Read the rest of this entry »
Posted: November 5th, 2012 | Japan 1 Comment »
---